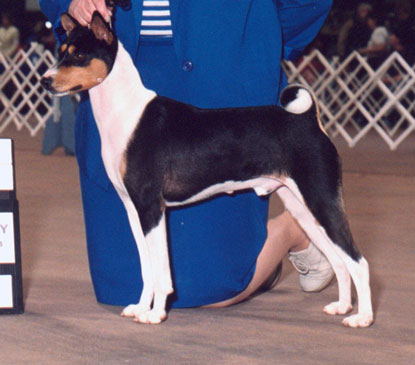 CH. Karabu The Prince Of Tides
"Vinnie" - Owned by Michelle Carter
We are proud to announce that our boy finished 2000 as the #10 Basenji in the nation! Sincere thanks to handler and best friend Ronda Lee who piloted this bundle of enthusiasm and loved him like her own.
It is with great sadness that we tell you that Vinnie left this world on January 22, 2001 to wait for us at the Rainbow Bridge. He was diagnosed with Leukemia after becoming ill in mid-December. He has left a void felt by his family and many friends that will never be filled. Please see A Tribute to Vinnie.


Karabu And So It Is
"Arlene"
Arlene and handler Ronda Lee only made it to seven show in 2000 and she was undefeated in her sex. Watch for the two of them pursuing those majors in 2001.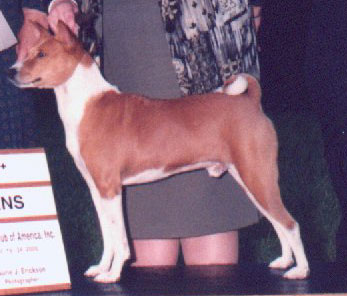 CH. KHAMSIN KARABU SHARPER IMAGE
"Beemer"
Beemer traveled to the 2000 specialty and placed fourth in a highly competitive veterans class. He had the time of his life getting ready to be a show dog, traveling and showing for Ronda Lee his first time back in the ring in nearly four years!